FreQ Nasty returns to the dancefloor with a call to love riding atop a warped psychedelic bass line in his new single #loveistheonlyanswer.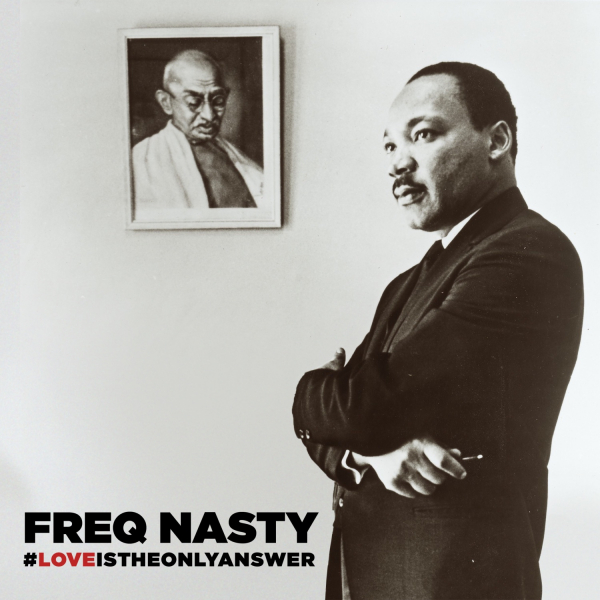 LISTEN>>>>> https://soundcloud.com/muti/sets/freq-nasty-loveistheonlyanswer
Dropping on Muti Music on Martin Luther King day 2019 (Jan 21). The track features a sample of the great man himself offering a message of compassion and kindness which is as relevant now as when the speech was delivered in a similarly volatile period in US history. The track itself is a searing slice of electronic dancehall with a low slung junglistic halftime twist that sits left field of bass music, ahead of the pack and most definitely right on the money and. Positive vibes for bass lovers everywhere!
Darin Mcfadyen, known professionally as FreQ Nasty, is an internationally renowned music producer & DJ and a pioneer of the Breakbeat and Bass Music movements. He has collaborated with Bassnectar, Santigold, Fatboy Slim, Kelis, KRS One, and Roots Manuva, but as an extensively trained meditation teacher he also finds time to lead music based Meditation and Sound Healing experiences around the globe, including at Burning Man where he is one of the festivals most loved DJs. A key figure in the development of the SUBPAC tactile audio technology he considers music and sound to be a universal instrument of healing and connection.
// LINKS//
Soundcloud:
http://bit.ly/2T5ZNvG
Buy & Stream:
smarturl.it/loveistheonlyanswer
// MUTI MUSIC ONLINE //
http://www.mutimusic.com
https://soundcloud.com/muti
https://facebook.com/pages/Muti-Music/68267622747
https://twitter.com/mutimusic
//FREQ
NASTY//
http://www.freqnasty.com
https://www.facebook.com/DjFreQNasty/
https://soundcloud.com/freqnasty
https://twitter.com/freqnasty